Offsite document storage is one of the easiest ways to free up space in your office. This service is ideal for storing documents you might not use frequently, but need to hold on to for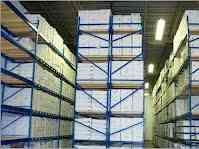 retention, security, or confidentiality.
Oakland Document Scanning offers secure offsite records storage and retrieval services for any size company. Let us help you optimize your document retention plan and reduce the amount of filing cabinets in your office. Get free quotes today!
Records Storage Throughout Northern California
Here's a short list of things to consider when you're looking to hire a document storage provider in Oakland:
Cost Savings in Oakland
If you're using office space to maintain records and information, a document storage service helps you free up expensive office space and enhance the productivity of employees who maintain your documents.
Increased Security and Access Control
Keep files that contain personal or confidential information secure and limit the access to authorized personnel only with a secure records storage facility. Each facility only allows authorized access when requesting and retrieving stored files, making it a viable solution for securing confidential files, personnel records, and backups for your company.
Climate Maintained Document Storage
Our document storage facility provides temperature and humidity controlled storage so you can store any type of media or file without having to worry about degradation or destruction due to the environment- which you have little control over in your office. We can store a virtually any kind of item, including:
Magnetic tapes
X-rays
Paper documents and records
Microfilm/Microfiche
Discs, CDs, DVDs, and electronic media
The facility also has a backup power source that insures the temperature and humidity are maintained even during a power outage.
Disaster Recovery, Protection & Planning
Major catastrophes like fires, hurricanes and floods can destroy years worth of important business documents. An offsite records storage location can be in integral part of your disaster recovery program. Store system backups and copies of important documents that can't be replaced offsite so they won't be affected if your office is damaged.
Get Free, No Obligation Quotes on Offsite Document Storage in Oakland and Northern California
Oakland Document Scanning provides secure records storage and document retrieval services for businesses anywhere in Oakland. To get free, no obligation quotes on long-term document storage, give us a call at (510) 250-3005 or fill out the form to the left.